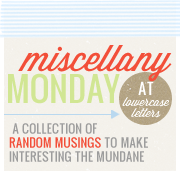 ~1~ My First Award!
So,
Mommy A
gave me my first Blog Award! I'm so excited! Thank you, thank you, thank you!
Since I'm such a rule follower, I now need to tell you 7 things about myself and then award 5 more bloggers. So, here goes!
~2~ My 7 Random Facts
1. I iron clothes every night for Husband and me. I then lay them perfectly in the closet so they don't re-wrinkle. Every. Night. It's an obsession.
2. I had to start wearing glasses in the second grade. I got contacts in the eighth grade (Thank God!). The first thing I do every morning is "put my eyes in" and I take them out right before I go to bed. I never, ever wear my glasses.
3. I take two showers a day. At night, I wash my hair and then pull it up in a bun, still wet. In the morning, I take another shower, take my hair down, and let it air dry. Because I'm weird like that.
4. My BFF and I text during every episode of The Bachelor. The entire 2 hours. Greatness.
5. I have a radio in the kitchen that plays music 24/7. I have another one (with my iPod) in the bathroom. I'm a music teacher. It's how I roll.
6. I was so over being preggers with both of my children that I pitched a fit and cried and was induced a few days early. HA!
7. People comment on my hair daily. "Your hair is so pretty!" "Your hair is so long!" "Do you have extensions?!" Honestly? It's like my security blanket. Cutting it scares me to death. So, no I don't have extensions. And yes, it is long. Get over it.
~3~ Award Time!
Here are my Top 5 Daily Reads:
Kelly at
Kelly's Korner
. She is such a sweet person with a sweet blog.
Babbling Abby
makes me feel normal. Because she's a crazy school teacher, too!
Angie at
Big Bears Wife
because she has amazing recipes! And because she's one of my "homegirls" from "back where I come from."
This
Stay At Home Mommy also makes me jealous. And, also, she looks good doing it!